Barcelona is one of the world's most popular tourist destinations, attracting millions upon millions of visitors each year. So why is it so popular? Well, it has almost everything any holidaymaker would desire. Easy access, favorable weather conditions, attractive beaches and surrounding mountains, a buzzing nightlife, tasty local cuisine and it's steeped in culture and history. It's also a sight-seeing wonderland, housing many recognizable monuments. Variety's the word with Barcelona and the city has something for everyone; families, couples and singletons alike. There are the tourist attractions in Barcelona travelers shouldn't miss if they ever decide to visit the Catalan capital: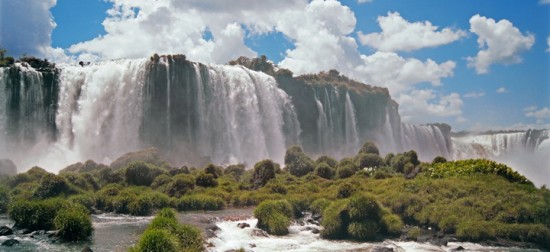 La Rambla
This is probably the city's most famous street and is a bustling hive of activity. It is often called Las Ramblas, because it is actually a series of several different streets that all have a distinct feel. Located just off Plaza Catalunya and leading right down towards the port and beach, visitors will find street performers, lots of bars and restaurants and the fabulous Boquería Market, a true feast for the eyes.
Sagrada Familia
La Sagrada Familia is the most popular attractions in Barcelona, attracting nearly 2.8 million visitors each year. It is a large and intricate basilica designed by Antoni Gaudi. Construction began in 1882 and continues to this day. The building is predicted to be completed within the next 30 years. Visitors will be captivated by the design elements and the religious symbolism built into all the spaces of the church. A glorious exterior and interior make La Sagrada Familia truly unmissable.
Barceloneta
Out of Barcelona's seven different beaches, stretching over 4.5 km (2.8 miles) of coastline, Barceloneta probably tops them all. It is one of the most popular and is closest to the city center. Along the 1,100 meter (3,600 feet) sandy beach runs a walkway popular with joggers and cyclist. Not surprisingly this place can get crowded, especially during the summer months when the beach bars open up and the beach quickly fills up with locals and tourist.
Parc Guell
With other major works in the city including La Casa Batlló and La Pedrera, this has to be one of Antoni Gaudí's most celebrated and it is certainly one of the most emblematic of Barcelona. The area was originally meant to be a residential property development with Gaudi doing much of the planning and landscape design. Only two houses were built and the land was later sold to the city of Barcelona and turned into a park. It is home to the famous Salamander sculpture, as well as other buildings and structures designed by the architect. With stunning views of the city, this is a magical experience.
Museu Picasso
With over 4,000 works by the painter, the Museu Picasso houses one of the most extensive collections of artworks by the 20th-century Spanish artist Pablo Picasso. In particular, the Museu Picasso reveals Picasso's relationship with the city of Barcelona, a relationship that was shaped in his youth and adolescence, and continued until his death. The museum is housed in five adjoining medieval palaces in Barcelona's La Ribera.