Rome, the Eternal City, a canvas painted with timeless history, architectural wonders, and cultural richness, holds an understated yet quintessential element that adorns its landscape – fountains. Steeped in history and brimming with lore, there's something unique and enchanting about Rome and its fountains.
There's more to Rome's fountains than just their artistic allure. Positioned at various squares, these fountains were initially the city's primary source of water, where aqueducts channeled crystal-clear water into graceful displays. More than just utilitarian, the Romans transformed these essential water sources into works of art, shaping the city's iconic character.
Rome's fountains are more than mere city adornments. They act as silent narrators telling timeless tales from Rome's past and present, with each splash and trickle resonating with silent whispers of history. From the striking grandeur of the Trevi Fountain to the subtle artistry of less-known fountains, these waterworks are indispensable parts of Rome's rich tapestry.
Today, these fountains serve as more than just historic monuments or tourist attractions. They are gathering spots, beauty marks on the face of the city that inspire artists, soothe locals, and mesmerize travelers. A trip to Rome without savoring these brilliant fountains would surely be incomplete.
So get ready to set on a journey where each coin tossed into a fountain promises a return trip to Rome, where waters sing the ballads of bygone eras, and where stone and water interact to create captivating symphonic beauty. Welcome to our introduction to the fountains of Rome – a plunge into history, art, and sheer elegance!
The Historical Thirst: Rome and its Relationship with Fountains
Get comfortable, my friend! Have you ever mulled over just how deeply the unique fountains of Rome are intertwined with the city's rich and vibrant history? They're just like that super refreshingly cool drink on a sweltering summer day; they satisfy your desire for beauty and quench your thirst for knowledge. How's that for a win-win?
Rome's historic center is like a magnificent open-air museum, each corner whispering tales from its glorious past. And, playing a starring role in this time travel adventure are its fountains. They make the city's age-old plazas come alive like the effervescent bubbles in your favorite fizzy drink.
Back in the day, can you believe the Romans were all about engineering prowess, creating an intricate network of aqueducts to deliver fresh water from distant sources? Amazing, right? Well, the fountains served as distribution points, ensuring everyone could have a swig of clean, fresh water. They were life-savers, quite literally.
Dotted across the city, the fountains became social gathering spots, like that popular juice bar that's always bustling in your neighborhood. Pulsing with energy, they were where locals could catch up on gossip while filling their water vessels.
The fountains' architecture and intricacies evolved through the centuries, mirroring the changing trends of Roman art and society. Just as how you'd zest your drink with exciting flavors, the Romans jazzed up the fountains with spellbinding sculptures and carvings.
Just take the Trevi Fountain, for example. This iconic fountain, beloved by tourists and locals alike, is a work of art that embodies the magnificence of the Baroque era. Not just a pretty face, indeed!
Sound like the thirst-quencher for the history buff in you? Fantastic! We'll continue to dive deeper, but always remember, Rome wasn't built in a day, and the same goes for truly appreciating its fountains. So, grab your favorite refreshment and let's embark on this journey together. After all, who said learning history can't feel like sharing a cool drink with a friend?
The Beauty of Rome: A Dive into Major Fountains
Hey there, hydration enthusiast! You know we love a good refreshing scene, and this time we're taking a detour from our usual drink recipes and diving into some literal refreshing sights – the phenomenal fountains of Rome. Ready to take a dip into history? Let's splash right in!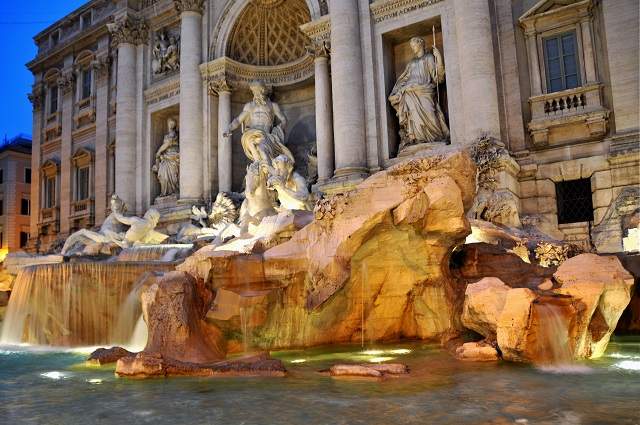 Trevi Fountain: A Sparkling Chapter from Rome's Past
Ever heard of the Trevi Fountain? Of course, you have! This isn't just any fountain, it's the fountain – a real-life scene straight out of a fairy tale.
The Trevi Fountain, or "Fontana di Trevi" as the Romans call it, is not just about the cascading water. Everything about it screams 'Artistry!' Its intricate designs, the imposing statue of Neptune (God of the Sea – fitting, isn't it?), all nestled in a bustling Roman corner – it's breathtaking!
Can't travel to Rome to throw a coin in the fountain for good luck? No worries, our next virtual tour stop is…
Fountain of Four Rivers: Symbolism in Every Drop
Rome really went all out on this one. Picture this: a towering structure, four gargantuan figures, and a carved obelisk piercing the sky. This isn't your average backyard water feature, my friend.
The Fountain of Four Rivers, located in Piazza Navona, isn't just there to look pretty, though it does that pretty well. Each of the quartet of giants represents one of the four major rivers from the continents known at the time – the Nile, Ganges, Danube, and Rio de la Plata.
So while we can't sip this water, we can definitely appreciate the monumental artistry and refreshing vibe it brings to Rome's heart.
Ready for the last leg of our wet and wonderful Roman journey?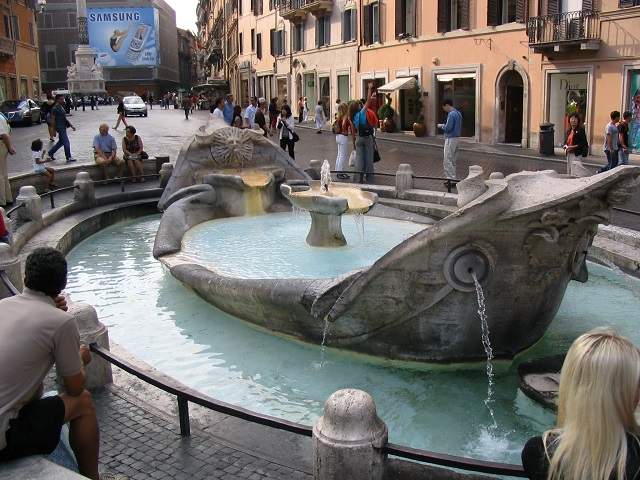 Barcaccia Fountain: A Refreshing Tale of Art and History
Last but not least, let's wade into the simple, yet fascinating Barcaccia Fountain. Designed by Pietro Bernini – yes, the father of THAT Gian Lorenzo Bernini – it's got a background story worth sharing.
The Barcaccia, or 'old boat' in English, pays a creative tribute to the great flood of 1598 and is a well-loved landmark at the foot of the Spanish Steps. You might be thinking, "A boat in a fountain?" Remember, in Rome, even the quirkiest ideas turn into phenomenal masterpieces.
And so, dear friends, our Roman fountain escapade comes to a close. We've seen the high seas, the mightiest rivers, and a flood remembered through a marble spectacle. Isn't it amazing how much refreshment could be squeezed out of stone?
In Rome, just like in your favorite refreshing drink, the magic's not only in the taste (or the refreshing view), but also in the rich history and the love poured into creating it.
So next time you're sipping on your favourite beverage – think about these fountains. They might not be drinkable, but they sure serve up one mesmerizing feast for the eyes!
Ready for our next refreshing adventure? Stay tuned, friend. The world (and its beverages) holds countless more surprises in store for us.
Quenching the Thirst for Lesser-known Fountains
Hey there, fountain lover! We've explored Rome's most famous fountains together, but you know there's always more thirst-quenching goodness around the corner, right? So, let's dive into some amazing lesser-known fountains in Rome that wow visitors with their unique charm and stories. Ready to discover some refreshing new sights?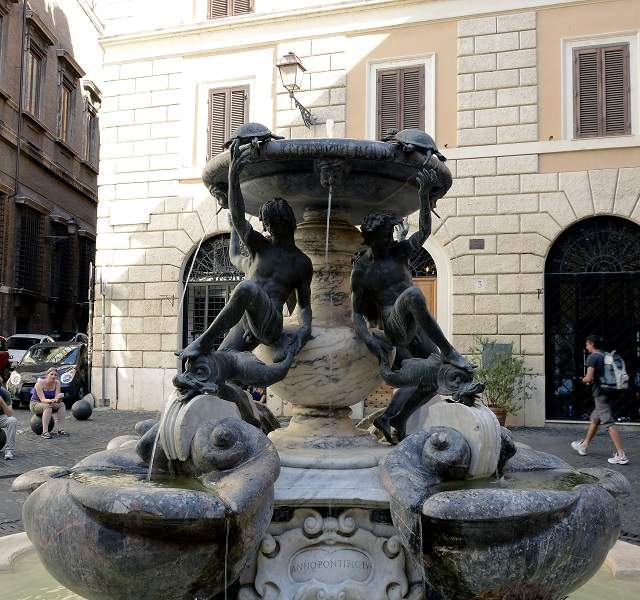 The Turtle Fountain: Small but Mighty
Nestled in Rome's picturesque Piazza Mattei, the Turtle Fountain is a delightful gem you may have never heard of. It might not be as grand as Trevi or as majestic as the Four Rivers, but don't let its petite size fool you. The Turtle Fountain has its own enchanting story to tell.
Can you imagine turtles just chilling on the fountain's edges? Well, that's exactly what you'll find! This late-Renaissance marvel by Giacomo della Porta is a delightful work of art. Gotta love the story behind the addition of turtles by Bernini, the guy who designed the Fountain of Four Rivers!
The next time you're in Rome, head over to the Turtle Fountain and soak in its soothing atmosphere. Surprise find, isn't it?
Fountain of the Bees: Buzzing with Cuteness
Ever looked at a fountain and thought, "I wanna see something sweet, like… bees?!" Worry not, Rome has got you covered! Let's fly over to the adorable Fountain of the Bees, located near Piazza Barberini (also famous for the Triton Fountain!).
The bees symbolize the crest of Pope Urban VIII Barberini, whose family commissioned the fountain. Designed by Gian Lorenzo Bernini, the Fountain of the Bees is a cute, quirky find for any wandering fountain enthusiast in Rome.
Treat yourself to some Italian gelato and enjoy this lovely oasis of refreshment in a bustling Roman square.
Fountain of the Tritons: An Aquatic Showstopper
Last, but not least, let's dive into the undersea world of the Fountain of the Tritons in the heart of Rome. This Baroque masterpiece, designed by Carlo Bizzaccheri, is a true showstopper located in Piazza della Bocca della Verità.
You'll find two mighty Tritons gripping a colossal seashell. See how they balance the papal coat of arms held between their muscular shoulders? It sends a powerful message: "Look at us, we're Rome, and we know how to make jaw-dropping fountains!"
Now you know some less-visited, yet equally stunning fountains in Rome. Go ahead, spread the word, and share the love for these amazing works of art that make Rome even more refreshing.
So, are you ready to take these hidden gems off the beaten path and make them part of your next Roman adventure? They're waiting to reveal their secrets and add some extra sparkle to your trip – and, who knows, they might make you feel like you've discovered a new favorite drink that you can't wait to tell your friends about!
Rome's Fountains: A Symbol of Roman Artistry
Hello, my fellow hydration devotee! Just as a refreshing drink can quench your thirst, Rome's fountains have their own way of satisfying your craving for beauty, artistry, and history. Let's dive into the crystal clear realm of Roman fountains, and see how they're more than just magnificent water features.
A Quintessential Splash of Roman Architecture
If you thought Roman architecture was only about colosseums and pillars, think again. Countless Roman fountains showcasing architectural genius are sprinkled across the Eternal City. Each fountain, from the grandeur of the Trevi to the quaint charm of the Turtle Fountain, holds up a mirror to Rome's architectural heritage.
But here's the showstopper: the Four Rivers Fountain in Piazza Navona by Bernini. See how the fountain weaves a tangible, wet tapestry of architectural brilliance with its balanced proportion, symmetry, and attention to finite details. Were you ever blown away by a drink's presentation? Now witness that same jaw-dropping admiration for Bernini's creation!
An Unfolding Canvas of Roman Artistry
Now, let's dwell on the artistry aspect. Rome's fountains aren't just showy displays; they're tangible reflections of Roman culture, belief, and artistic evolution. Notice the intricate details on the Barberini Bees or the imposing figures of Neptune and Triton? They're not just meant to impress you (although they sure do), but to narrate tales of Rome's past. It's like sipping a complex drink that tells its own story with each layer of flavor!
Rome's Fountain-Driven Tourism: By the Numbers
Did you know Rome boasts over 2,000 public fountains? That's right; nowhere else can you find such an array of diverse, beautifully crafted fountains.
Their significance in boosting Rome's tourism is undeniable. Thousands of visitors flock to the Trevi Fountain each year to toss coins into its waters, entranced by the age-old tradition. That's quite a "crowd-puller," as your favorite summer drink is at a backyard BBQ, wouldn't you agree?
In fact, Rome's fountains bring in a whopping 20% of the city's annual tourist footfall! That's a lot of admiring eyes glued to these masterpieces.
So, let's raise a glass (or a water bottle!) to Rome's fountains, symbolizing Roman artistry at its finest. They're pretty much nailed their status as open-air museums, bringing historical tales, architectural marvels, and artistic excellence to life. And just like your favorite refreshing drink, they leave you wanting more – another glimpse, another visit, another story.
Ready for another sip of Rome's fountain-infused history? Let's keep this delicious exploration going, friend!
A Survival Guide: Tips and Recommendations for Tourists
Hey there, fellow adventure seeker! Planning a visit to the iconic fountains in Rome? It's like embarking on a quest to find the most thirst-quenching drink ever! But don't worry, we've got your back with some cool and helpful tips, just like a good friend ought to. So let's jump right into it, shall we?
Practical Tips: How to Make Your Fountain Visit Splash-tacular!
Visiting Rome's fountains can be just as rejuvenating as enjoying your favorite refreshing drink on a hot day. But let's make sure you're all set for a fantastic experience.
Early Bird gets the…Fountain!: The best time to visit the super-popular fountains like Trevi and Four Rivers? Try early morning before the crowds flock in. It's your chance for an undisturbed view and photogenic selfies.
Ciao, Coins!: Tossing a coin into the Trevi fountain is a must-do. Just remember to toss it over your left shoulder with your right hand. It's a quirky tradition that makes for a fun story to share with friends!
Respect the Rules: Remember, these are historical landmarks. Swimming is a no-no, even if it's sweltering outside. Best to keep a bottled water handy!
Timing Your Visit: Let's Break it Down
The beauty of Rome's fountains is that they never close – they're open 24/7. However, here's a little insider's secret: twilight. Seeing the fountains under a setting sun, that's a sight to savor! You could also catch the lights illuminating the fountains after dark. Remember how that iced lemonade tasted better on a balmy afternoon? It's kinda like that!
Nearby Attractions: More Bang for Your Buck!
An extra bonus to your fountain quest? Many are smack dab in Rome's bustling hubs!
Trevi Fountain: Postcard-perfect Pantheon is just a short walk away. Don't forget to grab some gelato at the famous Giolitti on your route.
Fountain of the Four Rivers: Sitting in Piazza Navona, you're surrounded by eateries. Time for a pizza break?
Turtle Fountain: The charming Jewish Ghetto with its kosher bakeries and trattorias is right next door.
And there you have it, friend! Now you're armed with some tips for your must-see fountain tour in Rome. It's like discovering a secret ingredient to liven up your favourite drink! So grab that map (or GPS!), your sense of adventure, and let's make a splash in the Eternal City. The fountains are waiting to mesmerize you!
Frequently Asked Questions
Hey there, fountain fanatics! Rome's fountains can be as intriguing as the city's history itself. So, like true pals, we've put together a list of frequently asked questions to help you navigate these stunning masterpieces even better. It's like we're sharing insider tips on the most refreshing and delicious drink ever!
1. What's the deal with wishing coins at the Trevi Fountain?
Ah, yes! The famous coin toss. Tossing coins into Rome's iconic Trevi Fountain has become a beloved tradition for tourists. Here's the low-down:
First coin: for wishing to return to Rome.
Second coin: for some Roman romance (wink wink) or drumroll ensuring an exciting drink discovery!
Third coin: often thrown for a wishful wedding or an extraordinary life change.
Just remember, toss with your right hand over your left shoulder, and you're all set!
Coins collected from the fountain are donated to a charitable organization called Caritas, so, you're making a wish and helping others. How cool is that?
2. Are there any restrictions around the fountains?
Absolutely! Rome's fountains are historical treasures, and we gotta treat them with respect, just like a beloved family recipe! Keep in mind:
No dipping in the fountains
No climbing or sitting on the fountains
Enjoy the view, but don't drink the water
These rules are in place to protect the stunning fountains and keep them beautiful for generations to come.
3. Which fountain is a must-see for first-time visitors?
Tough question! There are over 2,000 fountains in Rome, each with its own charm – like stumbling upon the perfect thirst-quenching drink! However, the Trevi Fountain is hands-down a fan-favorite. This colossal work of art will leave you awestruck. Don't forget your coin toss!
4. Are there any underrated fountains worth visiting?
Oh, absolutely! While everyone's flocking to the popular picks, there are a couple of hidden gems:
Fountain of the Turtles: Nestled in the Piazza Mattei, it's a delightful, Instagram-worthy spot.
Acqua Paola Fountain: With a panoramic view over Rome, it's a tranquil, lesser-known treasure.
Think of these as the well-kept secrets of the beverage world – they may not be as popular, but they're just as refreshing and delicious!
And there you have it! Some quick answers to quench your curiosity about Rome's fountains. Let's toast to a fantastic fountain-tastic adventure, filled with historical wonders and unforgettable memories. Cheers!
Conclusion: Our Fountain Adventure Comes to a Close
So there you have it, my fellow thirsty travelers! We've explored the ins and outs of Rome's bubbling fountains, just like we would our favorite summer drink. Here's a quick recap for the road:
We've shared some splash-tacular tips to make your visit to Rome's fountains a breeze, like early morning visits and the perfect twilight moments.
We covered the must-ask questions, such as that oh-so-charming wishing coin tradition at the Trevi Fountain and the rules you need to follow to keep these gems in top shape.
And hey, let's not forget the hidden gems, like the Fountain of the Turtles and Acqua Paola Fountain – they might be off the beaten path, but they're just as refreshing as that secret family drink recipe!
As we say arrivederci to this adventure, let's toast to the beauty and significance of Rome's fountains. They've been the city's life source, quenched its thirst over centuries, and now serve as a reminder of Rome's rich history and heritage. The Eternal City's fountains are more than just another landmark; they're a taste of Rome's essence, waiting to be sipped on and savored.
So here's to you, eager adventurer, for embarking on this refreshing journey to discover Rome's stunning fountains! No doubt, you'll leave with memories as unforgettable as that perfect sip on a warm summer day! Cheers!