Mexico City is one of the most populous cities in the world with more than 20 million people. Surrounded by mountains on three sides and situated in the dry lake bed of Lake Texaco the city has some wonderful vista views which combine nicely to its wealth of cultural attractions. The heritage of Mexico City is of both European and indigenous native descent. There is evidence of each cultures influence in and around the city. A few sites to see in Mexico City include.
Things to see in Mexico City
Templo Mayor
Seminario 8 | Mexico City 06060 |
Unearthed in 1976 Templo Mayor archaeological site is centered around the famous Pyramid Huitzilopochtli. The pyramid was once the spiritual epicenter of the Aztec empire and there is no museum that better represents better the splendor and complexity of the Aztec Empire. There also is an adjacent museum which discussed Aztec history and has a fantastic collection of artifacts. Located right near Zolcalo square Templo Mayor is easy to find.  Both attractions are open Tuesday till Sunday with Sunday being free.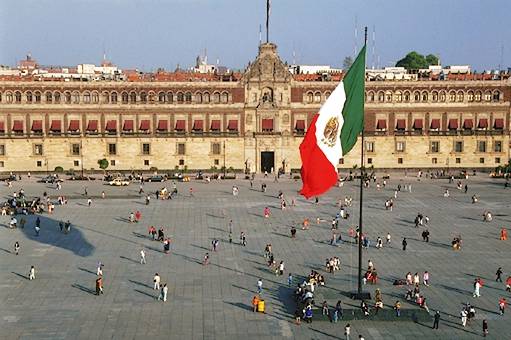 Zocalo (Plaza de la Constitucion)
At the intersection of Juarez and 20 de Noviembre | Mexico City 06060
El Zocalo is the main public square of Mexico City as well as one of its most recognizable locations. Originally used as a place of public gathering during the Aztecs era Zocalo has long been the centre of life in Mexico City. The present incarnation of the square is flanked by historic buildings – including the National Palace, national cathedral and federal buildings – and is often used for popular religious events such as the Holy Week for Corpus Christi. A great time to visit Zocalo is during sun set when the colors of the setting sun cast the square in a beautiful light. Sunset also sees Mexican solders march through the square to take down the flag.
Chapultepec Forest
Chapultepec Forest is the largest park and most popular park in Mexico City. The park has long been a reprieve against Mexico City's urban sprawl and is a popular gathering place for families and friends to escape city life for a bit. This area was once the home of the Aztec empire prior to it migrating to Mexico City in the 13th century. The park has a number of differing attractions including: the presidential palaces, various museums, a zoo, and several large lakes. The best of the museums to see is the National Museum of Anthropology which has a fantastic collection of artifacts and information about Mexico's pre-Hispanic peoples.