A country of amazing beauty, Greece is considered the most renowned sea destination in Europe.
This is because of its stunning islands, romantic sunsets, white-washed houses, Mediterranean flavors and turquoise waters. If you are looking to relax on a Greek Island Holiday, here is my guide to the best Greek islands destinations.
These beautiful islands are the country's big pride suitable for chilling out on the beach, family holidays or week long parties.
Athens
Athens is the capital of Greece. It is very famous for its sightseeing such as the world famous Acropolis and long history of 3000 years. A Greek Island holiday is not complete without a visit to Athens.
Culture lovers will definitely love the Acropolis museum, ancient temples, the Roman Agora and other archaeological sites. The city also boasts of beach resorts to relax on your Greek island holiday. The beach resorts are great in the hot summer days to enjoy a swim.
Santorini Island
Santorini Island is one of the most romantic holiday destinations in the world. This is also my favorite Island in Greece. It is loaded with boat tours, best beaches, white houses of Fira set against blue sea and amazing restaurants.
It has a breathtaking view to the sea, romantic sunset, and luxurious resorts hence it is a perfect island for family holidays, couples or holding a party.
Black Sand Beaches
It had once volcanic eruptions hence its black sand beaches are oasis of tranquility for everyone looking forward to relax on their Greek Island Holiday. There are many cruise ships that dock and charter flights to Santorini from other countries hence it is easy to come there.
Luxurious Hotels
The many luxurious hotels found on this Island offer upscale facilities such as open Jacuzzi, outdoor massages, infinity pools and luxurious spas.
Things to do and see
If you are looking for a bit of nightlife, then Santorini Island is the place to go. There are boat tours to visit the villages and experience their traditional architecture. Kamari and Perissa Islands are renowned for their black sand which you can enjoy during a day in the sun.
You can book a bus tour and visit a famous Santos winery and taste its traditional wine.
Mykonos Island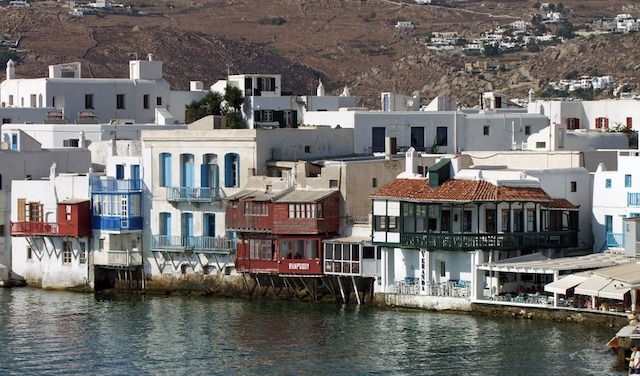 This is my second favorite Island in Greece. It is popular for its striking beaches and crazy night life. It offers the ultimate holiday for people of all age's especially young people looking to have fun in the night.
Accommodation
Mykonos Island has several luxurious hotels. These have lots of facilities, including spa, massages and pools. If you don't want to spend your holiday in a luxury hotel, there are modern villas, apartments or budget hotels to stay in too.
Things to See
There are many cruise ships and yachts that continue to arrive on the island especially in summer. This is because Mykonos Island is a popular destination with whitewashed houses, cobbled streets and traditional windmills. Most of the avenues are close to the town.