Mexico is known for a lot of things: sunny beaches, incredible sights, and delicious cuisine. The last one is something that usually leaves a lasting impression. If you have travelled to Mexico, you know that there are lots and lots of old-fashioned restaurants with dishes that they serve are full of flavours and fantastic aromas. From pork dishes to chicken cuisines and even vegetarian treats, there definitely something that will meet your dietary needs and your taste.
It is a good thing that you do not have to travel too far to have a taste of Mexico. This is because you can bring its unique taste and aroma to your home. How? Simple. With Mexico soup recipes.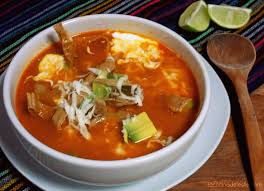 One of the most famous soups that said country offers is the sopa azteca or Aztec soup. It varies from one region to another and its flavorings are used in different ways—but one thing is true—this tomato-based recipe is richly flavored and will definitely satisfy anybody's taste buds.
Cooking this Mexican dish is easy. Here's how:
Ingredients:
·         1 1/4 lbs grilled chicken breasts that are cut into cubes
·         6 to 8 cups of chicken broth
·         1 avocado that is cut into 4 parts
·         3 cloves of garlic
·         2 tablespoons of canola or vegetable oil
·         1 can diced tomatoes
·         1 ½ cups asadero cheese
·         4 cups tortilla chips
·         1 white onion (thinly sliced)
·         1 dried or toasted pasilla chilli pepper
·         1 lemon
·         ½ cup sour cream
·         1 teaspoon of salt
Directions
Put the tomatoes and the chilli in a blender and mix until everything is properly combined. Afterwards, heat the cooking oil in a soup pot and then sauté the onion as well as the garlic until they become golden brown.
Take the soup pot off the heat and then take the onion as well as the garlic with the use of an ordinary spoon. Crush them against the side of the pot and try to squeeze out the excess oil. Add the onion and the garlic in the blender and refine until the mixture becomes smooth.
Put the mixture back to the soup pot and heat for 10 minutes; remember to stir the mixture throughout the process. Add the chicken broth and simmer for 10 to 15 minutes. Add the salt and voila, your aztec soup is ready to serve.
The aztec soup is served throughout Mexico, everywhere from high-class diners to basic food stalls serve this sumptuous dish. This is because it has a very unique taste that is present in many high-end soup recipes. The good thing about it is you can add your own personal touch to achieve the kind of blend that will satisfy your taste buds.