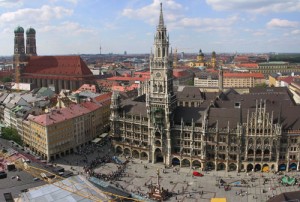 Munich is a city that is known for its bright and colourful culture and the extremely famous Oktoberfest, which happens to be the largest beer festival in the world. Locals love the city as much as tourists admire it for its happy and hippie air. The city is dotted with quaint cafes, shops, restaurants and bars, each having something unique to offer to its visitor. Not to mention there are plenty of places to stay, in which HostelBookers can help you out. However, eating on a budget is not that difficult here either. The following are some recommended places based on your budget:
Low Budget 
Alter Simpl – "Simplicissimus" is one of the most popular satirical weekly German magazines and that is where this restaurant gets its name from. It has been in Munich since 1903 when it used to be the favorite haunt of artists, writers and comedians. Now, it serves good beer till 3 am and amazing food until 2 a.m. Do try the bacon cheeseburger with scrumptious french-fries and their roast pork. Their Munich Schnitzel is the recommended filler.
Address: Türkenstr. 57, Maxvorstadt, Munich, 80799
Andechser am Dom – If you are in Munich and fail to visit this place, your trip would be incomplete. The floor, which is made from old stone and the beautiful vaulted frescoed ceiling gives this place the ambience of something magical and mysterious, almost spiritual. The food is boldly Bavarian and you should give the blood sausages with potatoes an honest shot. The roast duck is pretty great as well. Wash it all down with their impressive Andech beer selection.
Address: Weinstr. 7a, City Centre, Munich, 80333
Moderate Budget
Brasserie OskarMaria – Except for New York, Munich has the most number of publishing houses in the entire world. Set in the front of a renaissance style schoolhouse called "Literaturhaus," this brasserie gets its name from Oskar Maria Graf who was a famous Munich writer. The atmosphere is light and spacious because of the windows in plate glass and the high ceiling. The menu has an eclectic range of dishes and some perfect delicacies, which include their Lobster Risotto, Fish Burger, Beef Stroganoff and Beef Tartare. Do sip a cappuccino on their sprawling terrace.
Address: Salvatorpl. 1, City Centre, Munich, 80333
Hundskugel – This is Munich's smallest and oldest tavern and dates back to almost 1440. The place is always jam-packed with people and chances are that you might have to squeeze in to make some room for others. However, the ambience is homely and warm in the tiny dining room with a few tables. Everything on their menu is great and everything is recommended from their list of honest Bavarian delights.
Address: Hotterstr. 18, City Centre, Munich, 80331
Premium Budget
Dukatz – If you are in the mind to escape the tourist spots and the hustle and bustle that comes with them, this could be the perfect place for you. Dukatz has a well-stocked bar and a mouth-watering menu, which is not for the weak hearted. For starters, have their mussels with rocket and orange, and if you are in the mood for some exquisite Bavarian entrecote, go for their special main dish with cherry tomatoes (glazed) and young spinach. If you are someone who looks at the fish menu closely, theirs changes daily.
Address: Schäfflerhof (Fünf Höfe), Maffeistr. 3a, City Centre, Munich, 80333
Gandl – This relaxed and comfortable restaurant is also a great Italian specialty shop where you can get various staples from coffee to vinegar. They bring out their best on the ever popular Saturday buffet breakfast. Because of their popularity, sometimes seating is cramped, but they make up for it with their excellent service and warmth. The cuisine is Mediterranean influenced, and they're the perfect spot for dinner. If you need to grab a pastry for lunch, this is the place.
Address: St.-Anna-Pl. 1, Lehel, Munich, 80538
Be a little adventurous and do give a shot to the Bavarian food because it is truly delicious. Bad food can ruin a trip, but one great meal can make it amazing.