Cape Town is a city that absolutely brimming with opportunities for adventure, culture, and outdoor pursuits. Situated on the cusp of the Pacific and Indian Ocean the city also has the iconic Table Mountain just behind it. Visitors of the city enjoy time on its many great beaches as well as enjoying many of its great museums some of which detail South Africa's history of apartheid. Visitors to the city also often enjoy taking tours to the nearby wine country as well as trekking into the nearby national parks and wilderness. A smattering of ways that one can spend their time in Cape Town includes.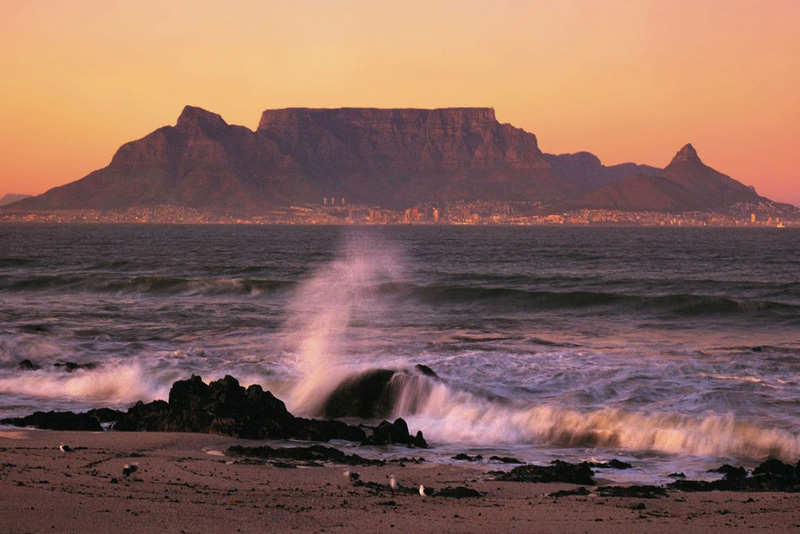 Table Mountain
Most certainly the easiest and most jaw dropping landmark Table Mountain towers over top of Cape town. The name Table Mountain comes from its unique flatted top. Cape Town has developed many ways that people can enjoy the mountain including trekking from the city up to its summit. If that type of physical exertion doesn't appeal to you it is also possible to take the famous Table Mountain Aerial Cableway instead. While inside the cable car the floor actually rotates so everyone has a chance to see the view from all angles. Cable car rides cost around $22.50 US for a round trip.
Camps Bay Victoria Road
If you are a beach person the beaches and promenades along Camps Bay Victoria Road will definitely appeal to you. Spots like Clifton Beach showcase the areas soft sand beaches, blue waters, and quaint cafes. Camps Bay as well makes for a family friendly area where people can enjoy the outdoors and the majestic South African climate. Beach side restaurants provide a great atmosphere to enjoy a few cocktails by the water and a lovely meal. Seeing the sun set with a cocktail in hand is a recommended experience in Cape Town. Both beach areas are accessible by car or bus from Cape Town along the Victoria Road or Camps Bay Drive.
Constantia Valley
The South African wine industry has bullishly stepped up to take its place amongst the world's best wine producers. The Constantia valley – located 15 kilometers south of Cape Town is where the industry began back in the 17th century. The oldest of the vineyards is the Groot Constantia has hosted a variety of historical luminaries such as King Louis Philippe of France, Napoleon Bonaparte and even Jane Austin. In modern times this as well several of the other vineyards turn out deliciously crisps whites and brooding reds. There are opportunities to tour the regions wineries and taste the wines produced at nine of the wineries including the Groot Constantia. Touring the wine region will require that you have access to a car.