Sometimes you will see travelers with their nose inside a Lonely Planet while they are on a trip reading every little bit they can rather than just being out experiencing the city. On the other hand some travelers fly completely by the seat of their pants and can't find accommodations when they arrive somewhere and have no clue what there is to see in the city. Obviously there is error in both positions of how to use a guide book that will most certainly affect the time those visitors have in a foreign location. This blog is going to talk a little bit about how to use your guide book as a tool while still soaking in the experience of the new place you are in.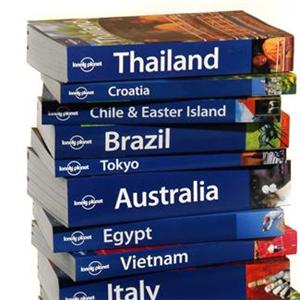 Get the Basics
Having been a traveler myself I can say that it is a daunting feeling having almost no knowledge of a city when you arrive. The first thing that needs to be done when you get to a new city is to at least plan a place you are going to stay. These days most people usually find a place and book it on line. A guide book can help you choose by giving impartial advice as to what hostel or hotel will suit your budget and needs. Importantly too, guide books usually give you instructions and maps how to get to the accommodations you have chosen. Without these crucial pieces of information you will feel completely disoriented when arriving.
Study before you get there, enjoy while you are there
A good tip is to spend time while in transit studying the place you will be visiting. This can be a great opportunity to read over interesting things you can see in the city you are visiting and finding out fun things that you can do. If you are a planner you may even start organizing your time as to how you will fill it. With that said, spend time getting acquainted with the place so that when you are there the guide book can just become a quick reference to direct you to the things that you want to do. What is to be avoided is doing research on the place while there instead of experiencing it as you probably only have a limited time frame.
Leave Room to Explore
Looking through the guide book will definitely highlight a few great things to do, but don't let it dictate everything. Once you have arrived in a city a lot of options for things to do will appear that you never even read about. What I am saying is any plan you may have concocted from your guide book needs to leave room for spontaneity and flexibility. Stay flexible and be sure to spend time just getting lost on the streets of the city.