It's not easy to see the world on a budget – believe me, I've tried. There are always things eating away at your bottom line and sneaking money out of your pocket at every turn to the point that you wonder if there's a hole in your pants! So much of it starts so innocently that you don't fully realize it until you add everything up at the end and swear you'll do it differently next time, or else enter the poor house in the process.
Thankfully, there are some great ways to save money that are easy and don't away from the experience or enjoyment of travelling. Many of these things can be planned for in advance, from opening a savings account years in advance to keep tabs of your money or researching hotels coupon codes for use when you book your accommodation. Some can come up at the last minute, like realizing buying a whole baguette and cheese can serve as your meal for a few days, rather than eating out for every meal. You learn a few things as you travel on how to cut costs, but for first timers, what do you do?
Well, here are a few pointers to get you started!
Avoid Bars and Go to Bed Early
No, this isn't the most fun for the partiers out there but let's be honest, whether you're dancing at a bar at home or at the hottest disco in Milan, what really is the difference? Plan to have your days packed full of doing and seeing great things so that you're so tired at the end that you actually make use of your hostel bed and don't waste the day. Buy some beer or wine at the grocery store or liquor shops and hang out with people at your accommodation – it's much cheaper and less draining than a midnight to dawn rave with a 20 euro cover charge and 8 euro martinis.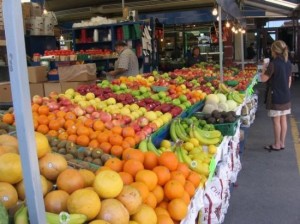 Buy your Food from a Market
This hinges on you staying at a place with a kitchen, but paying the extra 5 euros to get a place with a kitchen means your meal expenses drop significantly, as you can cook your own meals with food from a local market. Plus, you might make a few friends with the other travellers doing just the same thing!
Exploit the Free Sights
It's unfortunate that people think the best things to see have to cost them money as this really takes away from enjoying a city or any spot for that matter if they always have to be forking over some cash. Many cities have some of their best attractions though completely free of charge, you just have to know where to look. It costs nothing to see the outside of Rome's Coliseum and the Vatican's St. Peter's Basilica; entrance to Westminster Abbey will cost you a hefty fee but walking along the Thames River in London and gazing at that postcard view of the Houses of Parliament is free. Tokyo's Hachiko Crossing in Shibuya won't cost you anything, along with almost every temple and shrine in the country; gazing at the Sydney Opera House and walking the Botanical Gardens is a spendthrift's delight. You don't have to be rich to see the world – you just have to know where to look!