With its ever moving Western Frontier up until the 20th century, the United States has long been a nation connected to wilderness and the outdoors. Though America's great cities like New York, Chicago and Los Angeles are connected with the urban essence of America places like Yellowstone National Park are the heart of a more rural and rustic America which is no less important. Filled with a wealth of varied outdoor pursuits as well as several landmark natural wonders there is plenty of things to do and see in this massive national park. Things to do in Yellowstone include:
Mammoth Hot Springs
Definitely one of the marquee attractions of Yellowstone are the Mammoth Hot Springs. A natural wonder both for the warm water emitted from the earth's crust, but equally so for the intriguing natural sculpture that has developed because of both the warm water and the calcium carbonate that colours and shapes the surrounding rock. The hot springs have had a variety of terraces set up near them so visitors can enjoy them from different vantage points. If the history of the hot springs, and Yellowstone Park in general, is of interest the Albright Visitor Center features information on the park and the nearby Fort Yellowstone which was a former army base. You'll find a few places to eat at the visitor center.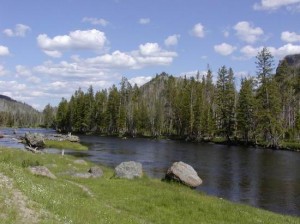 Yellowstone Lake
Situated in the center of Yellowstone National Park is Yellowstone Lake. First discovered by Lewis and Clark's scout John Colter in the early 1800's Yellow Stone Lake is the largest lake above 7,000 feet in North America. A great location for animal watching visitors to the region can enjoy seeing bears, moose, bison, and even bald eagles above in the sky from nearby to Yellowstone Lake. Winter is especially interesting for wildlife viewing as many animals travel to the shallow area of the lakes southern shores where thermal activity below the earth's surface provides enough heat to prevent freeze over. There are two villages – Grant Village and Lake Village – that each have places to eat and visitor centers.
Mount Washburn
Mount Washburn is Yellowstone Park's most prominent peak. Mount Washburn and the Washburn Mountain Range is one of two full mountain ranges inside of the Yellow Stones boundaries. With a summit of more than 10,000 feet Mount Washburn provides great opportunities for mountaineering, hiking, and camping. For an awe inspiring view over northern Yellowstone visit the peak's visitor center's observation deck.