Yellowstone is one of America's great natural escapes. This national park is filled with a variety of different camping areas, waterfalls, canyons, forests and other varied natural attractions. Since the colonial era people have marvelled at the bounty of nature located in this part of the state of Wyoming. Each year the national park is filled with legions of nature lovers who take to the outdoors and savour Yellowstone. If chance should bring you to Yellowstone you will have much to explore. Still more things to see and do in Yellowstone national park include: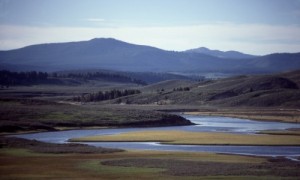 Hayden Valley
One of the key draws for visitors to Yellowstone is the chance to see the parks varied wildlife. Perhaps no place provides better opportunity for this then Hayden Valley. Located a few miles from Yellowstone Lake this lush valley is a natural grazing ground for elk, coyotes, bison, a vast variety of bird species, and even the occasional grizzly bear. Two of the major trails that hikers enjoy in the valley are the Hayden Valley Trail – which travels to Grand Canyon of Yellowstone from the valley – and the Mary Mountain Trail which leads hikers along the Northern edge of the valley. A few of the valleys calling card sites include a few geothermal pools such as Sulphur Springs, Black Dragon Caldron, and Mud Geyser.
Grizzly and Wolf Discovery Center 
Once you have enjoyed enough natural pursuits many visitors to Yellowstone take the time to visit the Grizzly & Wolf Discovery Center. This non profit center details in depth the history and features of the bears and wolves that are, and have been, inside Yellowstone. Beyond just the history of the animals, present conservation practices are also detailed in the center too. Nearby to the center are several habitats that actual house bears and wolves complete with viewing areas so you can safely view them.  Located near to the entrance to Yellowstone national park the Grizzly & Wolf Discovery Center is open in summer from sunrise to sunset daily.
Grand Prismatic Spring
If you're looking for a bit of artistic inspiration, you'll find it at the Grand Prismatic Spring. Sitting in the Midway Geyser Basin, this is the largest hot spring in the United States, approximately 250 by 300 feet in size and around 160-feet deep. But it's Grand Prisimatic's rainbow waters that really make it fascinating: While the center of the pool's deep cerulean hue is pretty characteristic, the deep reds, bright yellows and fiery oranges encircling the edges are not. These colors are caused by pigmented bacteria that thrive on the rich minerals produced by the geothermic activity. The color of the bacteria is determined by the temperature of the water — the center of the spring is too hot to support life — which is then reflected when light hits the organisms.