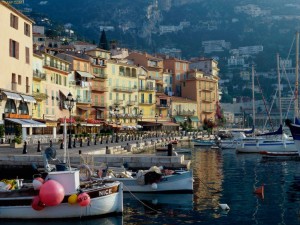 People who visit Nice enjoy a varied experience as they dart between the city's world famous beach, fantastic shopping and the varied historical sites. Set down on the French Riviera, Nice has long been a French – and more recently – world vacation destination. In the summer months the city is assured to have long stretches of sunshine and a crowded board walk. Night life and a great gastronomic culture assure that visitors to this city will have a fantastic time both night and day. A few things to do in Nice include:
Promenade des Anglais
Promenade des Anglais | Nice 06000
The most iconic of Nice's attractions most certainly is the promenade. This is where you can stroll along with the legions of visitors to the city flanked by the ocean on one side and high end shops and restaurants on the other. It is recommended soon after arriving to Nice that you take a walk along the Promenade to get your directional bearings as the view from there will highlight the other historic attractions that the city has to offer. The promenade is always lively at all times of day and there are plenty of options for food and drinks along it.
Chagall Museum
16 Avenue du Docteur Ménard | Nice
One of Nice's most acclaimed museums is the Chagall Museum. Filled with various art works from France and around the whole of Europe art lovers will certainly get their fill of visually arresting art. Chagall is best known for its wonderful stain glass art works that create colourful, and often, surreal visuals as light refracts through them. Previous visitors to the museum recommend getting an audio guide to provide additional information about the art works. The Chagall Musuem is open from 10 a.m. until 5 or 6 pm and entrance only costs a moderate fee.
Castle Hill
Montee du Chateau | Nice
Perched above the city looking down and over it is Colline du Châteauas or in English: castle hill. Though much of the original castle has succumbed to weather and years of wear and tear visitors to Nice still enjoy climbing its more than 300 feet of stairs to the top of the hill. To those who make it that far fantastic views over Nice and the Bay of Angels serve as a reward. Not just a place for a great view there is also a nice park area that is wonderful for picnicking. There is also a children's playground close by too.