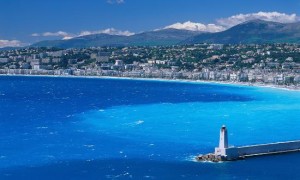 The sun, beautiful people, and the French sophistication are elements of Nice – a city set on the French Riviera. Long an area where the rich and famous come to play Nice is also a city that has much to offer to the average person too. Filled with great restaurants, boutiques, and historical monuments Nice is a city where a person can just wander around and savior their time here. A person can start their day wandering the markets of Cours Saleya, spend the afternoon on the beach, then enjoy the night time activities of Place Massena.
Cours Saleya
Cite du Parc | Nice 06300
Its hard to miss Cours Saleya – the city's outdoor market – with its bright colors and fantastic smells. Cours Saleya is located in the bustling heart of the tourist friendly old town. It's recommended to come here early as possible as by even 9 am there will be throngs of people wandering around buying foods for the day. Coming into Cours Saleya is a great way to see the commerce of the city in motion, as well as to see how regular citizens of the Nice live.
Place Massena
Avenue de Verdun / Avenue Felix Faure | Nice
The central square of Nice is Place Massena. A wonderful alive square Place Massena has the seafront flanking it to the south and the commercial delights of Avenue Jean Medecin – one of Nice's main shopping streets – to the north. Nearby is the well maintained and lovely Massena Gardens is also a draw for people to visit. Especially enjoyable for its ambiance at night Place Massena always draws an eclectic ground. A night time feature is varied art exhibits hoisted above the crowds of passersby on tall steel pool as well as the immaculately restored fountain a blaze with lights.
The Beaches
Promenade des Anglais / Quai des Etats-Unis
Naturally the beaches of Nice are worth a look as this is the French Riviera. Known for its iconic blue chairs a vacation to Nice requires some beach lounging. Many of the beaches are designed for the wealthy however as much of the beach space is broken up into private beach clubs that cost a fair bit to enter. Private beaches do have the iconic blue chairs, which keep you off the pebble beaches, but they also do not allow you to bring your own food or drinks in. There are free beaches to, but there are no lounge chairs are rest room facilities in them.