After the War of 1812 Ottawa became the capital of Canada taking the reigns from York – present day Toronto. Ottawa is a regal city, fitting of a national capital, there are many varied things to do while you visit. The city has unique sites connecting to its place at the seat of Canadian politics – such as Parliament Hill – as well as many other varied diversions such as the eclectic market ByWard Market. Whether it's walking around and sight seeing, shopping, or enjoying great restaurants Ottawa has all that you will need to have a stellar vacation. More things to do in Ottawa include:
ByWard Market
298 Dalhousie Street | Ottawa
One of Canada's oldest and most beloved public markets is the ByWard Market. Open year round, even in the colds of winter, the market offers shoppers an extensive range of items with vendors selling souvenirs, mitts and gloves, poutine (a Canadian classic of fries, cheese curds, and gravy) and other varied snacks. The ByWard is a market that locals often go to for fresh produce as well as a cheap meal on the go. If the locals do that, then it is advised you as a visitor to the city do just the same. Nearby to the main market buildings are numerous restaurant, nightlife spots, and boutiques. Take time to make your way to Barrack Obama's favourite snack stop the Moulin de Provence Bakery and enjoy some of their mouth watering sweets they offer. During the night time street performers come out and the area becomes a great place for dinner and drinks.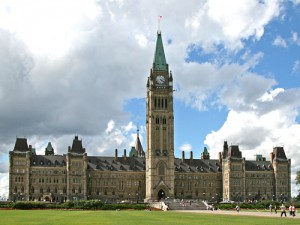 Parliament Hill
1 Wellington Street, Ottawa, ON
The central point of Ottawa is Parliament Hill, which is comprised of three Neo- Gothic buildings that act as the centre of Canadian government. Broken up into three sections there is much to see and do at Parliament Hill. In the Centre Block you can head to the observation deck of the Peace Tower to enjoy an expansive view over the Parliament grounds, Rideau Canal, and the rest of the city. Another recommended activity is to visit the Memorial Chamber which is a tribute to Canadians killed during military services. On the main lawn you can watch the changing of the guard which occurs each summer day at 10 am. And finally to the North is the library of Parliament which has many thousands of priceless books as well as some lovely art galleries attaches to the library. The other blocks – the east and the west – house key government buildings. The East Block has the privy council chamber as well as the house of the Governor General. While the West Block houses the Supreme Court of Canada, which can be toured as well. Visitors are welcome to the Parliament Buildings year round. There are also several free guided tours commencing through the day for visitors to enjoy and learn more about the various buildings that make up Parliament Hill.