Depending on your taste there is scarcely a limit on the different things that you can do in Berlin. The city has a variety of different and vibrant sections for visitors to enjoy, a great art scene and plenty of modern and historic monument to visit. People who come to Berlin come here to see how this city, once divided in its middle by the Berlin wall, has fused itself together and become one of Europe's, if not the worlds, most dynamic and cosmopolitan city's. A couple more things to do in Berlin includes.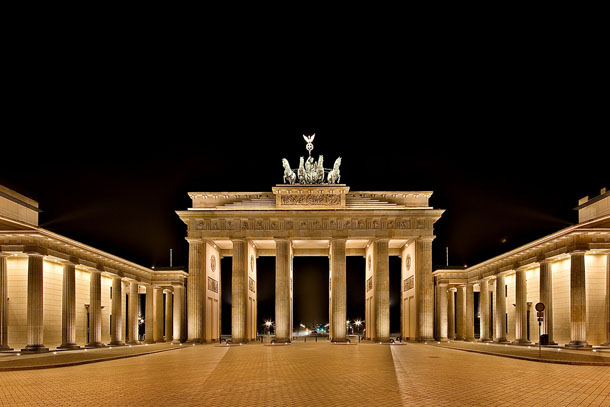 Brandenburg Gate
Pariser Platz 7 | Berlin 10117 |
Located in Pariser Platz, one of Berlin's most famous squares, is the Brandenburg Gates one of Berlin's most iconic monuments. The legend of this gate has grown since it was constructed in the 18th century as it has, almost inexplicable, been able to survive several invasions over the years including attacks by Napoleon and the aerial bombardment and shelling of World War 2, The original design concept of the gate was to be built like the entrance to the Acropolis in Athens. Several guided tours meet at the Brandenburg gate daily for great guided walks around the city also.
Memorial to the Murdered Jews of Europe
Cora-Berliner-Straße 1 | Berlin 10117 |
One of the more harrowing sites in Berlin is the Memorial to Murdered Jews. This monument consists of 2,711 concrete blocks designed to represent the Jewish victims of the Third Reich. The blocks are made of varying heights that seem to loom over visitors to the monument coming in a sense coming in around them. People who are interested in more information about the site and its construction can visit the visitor centre to learn more. The memorial is in a square that is assessable 24 hours a day.
Tiergarten
Große Sternallee | 12587 Berlin, Deutschland
Those looking for a respite from the pace of downtown Berlin often head to Tiergarten to relax in its green space. An expansive park, taking up 630 acres, visitors enjoy wandering through its meadows, tree adorned pathways and lakes. Tiergarten actually translates to animal garden and there is indeed a chance of running into some wild life inside of its confines. Also, if you fancy a bit of libation Tiergarten also has two beer gardens to sit back and enjoy a drink on a nice summer's day.