This time of year all I want to do when I get home is curl up on the couch in front of a roaring fire and dive into something hearty and inspired by my travels. After spending the warmer months avoiding cooking to keep my place cool and having far too many patio excursions, there is little else that brings me great comfort than the simple pleasures of a hot dish from my own kitchen that has been cooking all day.
Many of these dishes are things I have picked up from friends throughout my travels, not necessarily region specific to the traveller but hey, that's the beauty of food, isn't it? I add my own little twists where I can and the dish becomes my own – I encourage you to do the same. I will say this though: these dishes become all the more magical when done in a slow cooker, allowing the flavours not only to infuse your food all day but to spread the goodness througout your home as well. There's nothing quite like opening your door after a day at work to these fragrant aromas to put you instantly at ease. If you don't have a slow cooker, I recommend you get one – they aren't expensive and they'll blow your mind at their versatility.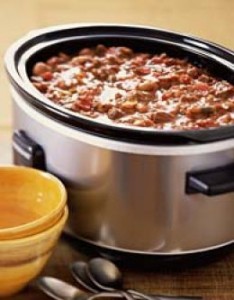 Chili
This simple tex-mex dish has become one of my favourites over the years to come home to because of its simplicity and because it's never the same each time I make it! I usually use the old staples of ground beef, tomatoes, onions and peppers as a base but will often substitute the beef for pork, turkey or leave the meat out all together! Want to take it to the next level? Add a handful of fresh cilantro just prior to serving and wonder how you ever ate it without it.
Manhattan Clam Chowder
Clam chowder is such a guily pleasure but wow does it pack on the calories with all that dairy! Opt for the tomato based one that really comes alive in the slow cooker and won't come with all the guilt of the cream based one. A few cans of baby clams (or a few dozen fresh if possible), tomato juice, celery, peppers and garlic are all it takes to have a great meal waiting for you at night. Toss in some fresh parsely just prior to serving and you're all set.
Beef and Root Veggies
This works equally well with a side of any piece of meat, be it pork, venison, mutton or moose, but it was my Danish friends who used beef and so it's beef that holds a special place for me. I like to quarter two large onions, thickly slice two sweet potatoes, two large carrots, one parsnip and about 15 garlic cloves, season with sea salt and fresh pepper and a few sprigs of rosemary before placing the meat on top to cook for at least six hours. The result? The meat is beyond tender and everything in the pot shares their flavours like a big hearty food orgy. Last minute tip? Have the horse radish sitting nearby to compliment all those hearty earthy flavours.